Look forward to your trade fair presentation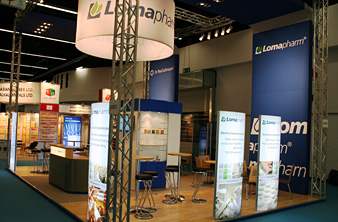 Our services are comprehensive and always tailored to the needs of our clients. From individual overall concepts
that reflect your own personal profile to modular systems, we offer everything from one source. Our services includes conceptual consulting, design, CAD planning and visualisation, construction, hired furniture, lighting, hostesses, training, catering, logistics, as well as transportation and storage of trade fair materials.
Fast response time between graphic design and production of digital prints and labelling are just as beneficial as the possibility of directly designing multimedia solutions and computer animation as an eye-catcher at your stand. In planning and realisation, we implement your wishes perfectly. Here, reliability, responsibility, good craftsmanship, cost-consciousness and experience form the basis for exhibition stands that set national and international standards. In this, we consistently proceed according to tried and tested principles, in order to ensure the greatest possible transparency, planning reliability and adherence to deadlines.
Conventional
Unique
The conventional design permits a high degree of creative possibilities. We create individual components, furniture, functional modules and more according to your needs, in order to represent your company in a unique way.
Unique feature at every event
Individual and innovative design options
High-quality and durable materials
System
Flexible
Stand construction in system design offers great flexibility and stability and many variations. Especially in budgetorientated planning, presentation objectives can be achieved in an optimum manner. Its global compatibility offers full flexibility, even across national borders.
Modern and versatile, combinable elements
Cost-saving solutions
Internationally compatible
Combined
Intelligently combined
The combination of conventional and system design is a charming way to meet complex requirements. Aspects such as modular expandability, international commitment and the integration of individual stand components can be very well addressed here.
individual stand design...
...with maximum flexibility